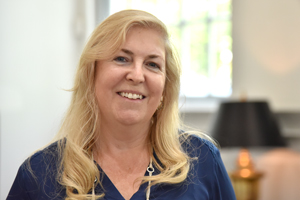 May 31, 2023
Chesapeake Bank and Trust Company is pleased to announce that Lynn Payne has joined its staff as Chief Financial Officer. She will replace Pat Stanley, who is retiring after serving the Bank for nearly 9 years as CFO.
"With her extensive experience in local community banking, Lynn will make a wonderful addition to our organization," said Mr. Altieri. "We look forward to having her join our management team."
Mrs. Payne obtained her B.S. in Accounting from University of Maryland College Park and has held a CPA designation since 1994. After 21 years with Prince George's Federal Savings Bank, she joined CNB as its CFO. Her career continued with Shore United Bank, where she served as Director of Finance and Director of Asset Liability Management (ALM), and had budgeting, Treasury and CECL responsibilities. Mrs. Payne and her husband, Greg, reside in Centreville with their two sons, Sean and Eric. She enjoys gardening, tennis, hiking, and traveling with her family.
"I've spent my entire career in community banking and most of it as a CFO. I look forward to joining the Bank and continuing with their great legacy," said Mrs. Payne.
About Chesapeake Bank and Trust
Chesapeake Bank and Trust is a full-service community bank, locally owned and directed by area business and community leaders. The Bank is committed to providing area residents and business owners with a broad range of financial products and an unparalleled level of individual service. Chesapeake Bank and Trust's main branch is located at 245 High Street, Chestertown, Maryland 21620.
For more information, contact Chesapeake Bank and Trust at 410-778-1600, or e-mail Bob Altieri directly at baltieri@chesapeaketrust.com.