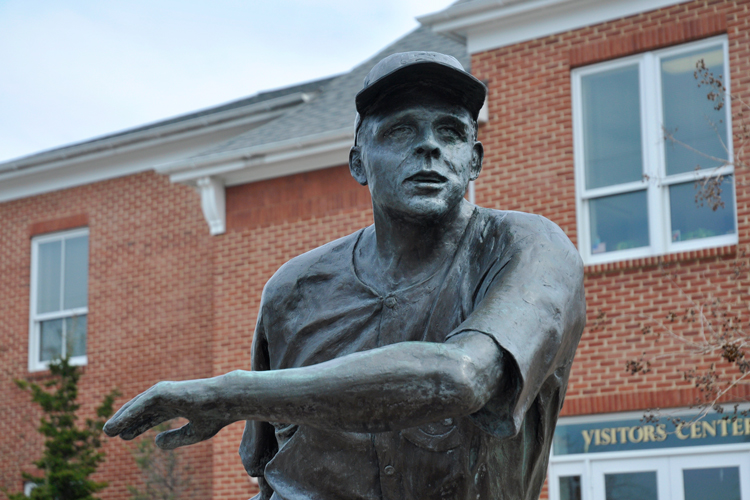 Statue of baseball great Bill 'Swish' Nicholson
"Chesapeake Bank and Trust pledges to preserve the implementation of an open environment to ensure the safety of employees, vendors and customers."
Organizational Commitment to Diversity and Inclusion
At Chesapeake Bank and Trust, we believe that promoting diversity is a strong component in maintaining our mission to the community. Our team values and respects the diverse culture of both our employees and contractors. Chesapeake is committed to maintain an impartial environment, recognizing that our small size and the rural nature of our marketplace can present challenges in accomplishing diversity.
Workplace Profile and Employment Practices
Chesapeake Bank is committed to providing a work environment that is free of discrimination. In keeping with this commitment, the Bank prohibits any unlawful discrimination. This policy applies to all employees, including managers and non-managerial employees. See our Equal Opportunity Statement below.
Procurement and Business Practices
Due to the rural area that Chesapeake Bank and Trust resides, and our institution's small size, the practicality of specifying businesses based on their diversity is unfortunately, and understandably, very limited.
Practices to Promote Transparency
Chesapeake Bank and Trust continues to inform its Board members and staff on related policies and practices. Our website includes this Diversity Statement so our community, vendors, potential employees, etc. are aware of it.
Entities Self-Assessment
We will attempt to find an applicable and reasonable resource for our Bank to use that will encompass our diversity policy and practice.
Equal Employment Opportunity Statement
Chesapeake Bank and Trust affirms its commitment to ensure equal employment opportunity in policy and in practice. Our company is committed to providing equal employment opportunities and will not tolerate discrimination or harassment on the basis of race, color, religion, sex (¬including pregnancy, childbirth or related medical condition), gender, gender identity, sexual orientation, national origin, age, ancestry, disability status or veteran status.
Chesapeake Bank and Trust pledges to preserve the implementation of an open environment to ensure the safety of employees, vendors and customers.