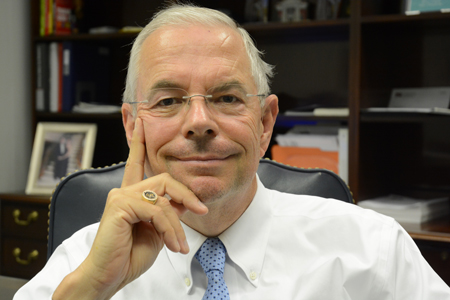 Glenn L. Wilson, President & CEO Director Chesapeake Bank & Trust
"Please feel free to stop in and say hello to me at the Bank."
President's Message
I was honored to be selected President & CEO of Chesapeake in early 2015, after leading and working in a variety of larger banks over my 35+ year career. My wife, Diana, and I had been part time Chestertown residents for several years prior to this, so were very familiar with the beauty and attractiveness of this area. Being able now to live and work here full time is indeed 'a dream come true' for us!
It has been refreshing to return to 'Community Banking at its best' here at Chesapeake. Our Bank is a well known pillar of this community, helping its residents and businesses with their banking and investment needs. We have a terrific, dedicated staff, who prides themselves on providing superior client service. And we are also a leading contributor and resource for our many non-profits (see our Community Service section of this website).
If you are already a Chesapeake valued client, 'Thank You' for your loyalty. But if you aren't, please call or stop in and talk with us. I believe you will be pleased to learn what a 'Truly Local' Community Bank has to offer. No bank cares more about our community than Chesapeake does! I will be pleased to meet with anyone considering us as their financial service partner. I can be contacted by phone at 410-778-1600 or by email at gwilson@chesapeaketrust.com. Or just stop by our Main Office and ask for me.
Yours Truly,
Glenn Wilson