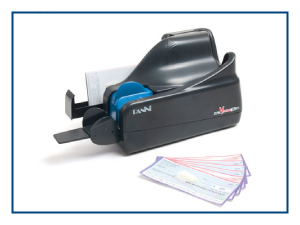 Desktop check scanner for remote deposit capture
"Once you're up and running, you'll be able to make deposits from your home or office for a low monthly fee. You can make unlimited deposits, enjoy later deposit cut-off times, and save yourself a lot of time—without leaving the office."
Chesapeake Remote Deposit
Deposit checks quickly and easily, without a trip to the Bank!
Benefits of Remote Deposit
Deposit checks in just a few minutes, start to finish 
Lower your transportation and payroll expenses
Later deposit credit cutoff than at Branch
Access historical data to view and print images of deposited checks
Bank on your schedule – submit deposits 24/7
What is Chesapeake Remote Deposit?
Chesapeake Remote Deposit is a simple and efficient way to deposit checks electronically, without ever leaving the comfort of your office. With remote deposit, you can scan an image of a check and then deposit the image into your Chesapeake account electronically, rather than make a trip to the bank to deposit the original paper check.
Flawless Document Handling
Highly-secure encrypted data communication
Elegantly simple, flexible and scalable system
MICR Read Accuracy
Superior Image Quality Chesapeake Remote
Deposit clients utilize compact and reliable check scanners to capture a digital image of their check deposits at their office. The MICR line and check images are archived for storage and retrieval purposes, and are transmitted to the bank for processing via secure software and an encrypted data connection.
How does it work?
1. Scan your checks using a desktop check scanner obtained from Chesapeake. All you need is a computer and internet connection.
2. Confirm the amount being deposited matches the amount you indicated.
3. Send the check images to us using an encrypted Internet connection.
4. Chesapeake deposits your funds every business night. Chesapeake Remote Deposit gives you the flexibility to manage your business on your schedule.
Once you're up and running, you'll be able to make deposits from your home or office for a low monthly fee. You can make unlimited deposits, enjoy later deposit cut-off times, and save yourself a lot of time—without leaving the office. Remote Deposit Online is helpful, convenient, and makes sense for your business. With Chesapeake Remote Deposit, you'll have more time to do what you need to do: run your business!